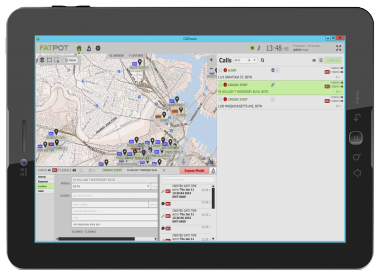 The FATPOT Knowledge Response Center (KRC) is all about filtering, translating, and applying business rules so that relevant knowledge gets delivered where and when it needs to be there. The FATPOT Mobile applications are optimized for displaying that multi-jurisdictional knowledge.
Read how the City of Boston used FATPOT Mobile during the Boston Marathon Bombing.
The FATPOT Mobile applications meet the evolving demands of Public Safety for increased ease of use and mobility. From a traditional Windows-based MDC solution to advanced tablet and smartphone options, the FATPOT Mobile suite of products offers a solution that is right for you.
Situational awareness is optimized by pinpointing incident location, unit location, and other GIS points of interest on an interactive real-time map. Dispatch information, including narrative and resource assignments, adds critical details often not available over radio communication. Communication with other first responders and coordinated response through organized search tactics are available.
First responders can also commit themselves to existing incidents through self-dispatch functionality or can create a new incident directly in CAD through bidirectional interoperability. Other modules allow for inquiries to State, Federal, and other systems. The result is an indispensable, mobile solution for Public Safety.
PortalONE
A powerful, Windows-based MDC mobile solution that provides a real-time view of multi-jurisdictional incident and unit information. It features a mapping view that pinpoints critical real-time data as well as a dispatch view that shows incident detail and unit information. It also integrates AVL, AFR, inquiries, and communication capabilities to deliver a best-of-breed, fully functional mobile client.
Android and iOS
The Next Generation FATPOT Mobile runs not only on Windows tablets but is fully functional on Android and iOS devices, including smartphones. It utilizes the improvements of the Knowledge Response Center (KRC) for seamless integration with CADfusion NG, featuring server-based mapping and tactical response capabilities.
GPS Support
The FATPOT Mobile applications include full integration with GEOfusion, with local support for GPS modems or location services. Positioning information is displayed immediately on the mapping module for real-time location updates and navigation services. GPS location is also forwarded over the network to GEOfusion for sharing with other systems and users.
Automated Field Reporting
The FATPOT Mobile applications also feature a powerful Automated Field Reporting (AFR) solution that can be used to design, create, and manage sophisticated accident, citation, fire, EMS, and other specialty reports. AFR includes a workflow capability for routing and approval of reports. The resulting XML records can be exported into your favorite RMS system.
Situational Awareness
The FATPOT Mobile applications display multi-jurisdictional information from the Knowledge Response Center (KRC) to give a complete common operational picture of all activities surrounding an incident. This information is updated in near real-time to deliver up-to-the-second accurate situational awareness. FATPOT Mobile is the best solution available for unified response and safety for first responders.
Global Mobile
FATPOT Mobile is designed for network efficiency to provide optimal performance even over low-bandwidth radio networks or older-generation cellular networks. Global Mobile is a scalable data communications layer that senses the reliability and throughput capacity of underlying networks. It then throttles, prioritizes, and compresses network transmissions to mobile devices to deliver the most critical data first.








Frequently Asked Questions
Ready for Mobility?
See how FATPOT's Mobile technologies can save you time and money while allowing you to be completely informed.
Contact Us
Take a Test Drive